Ten years ago Roger Reijngoud searched the internet for a 3D rapid modeling expert. With the company EZ Powersteering, he and his partner technical director Ruud Jong, make electric power steering for classic cars. He asked SKM to scale down a classic steering wheel in such a way that it looks exactly like the original steering wheel that the oldtimer had when it left the factory at the time. This way the car looks original, but todays taller driver sits much more comfortable. We spoke Roger about his collaboration with SKM.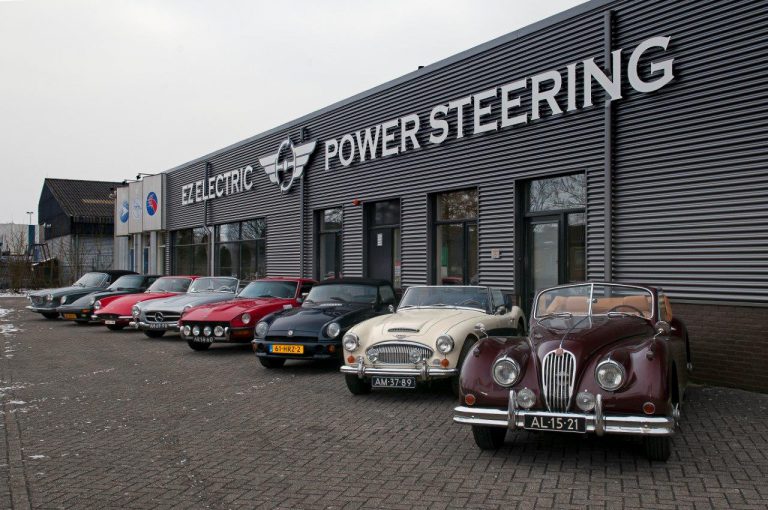 "Our customers want their car to keep a classic look, but have a little more comfort and safety. In addition to power steering for more driving comfort, power brakes are also often installed. This way you can also make an emergency stop in your classic car which contributes to safety. Classic cars from the 60s and 70s often have a fairly large steering wheel. People are getting taller and that makes getting in and out of a classic car more difficult. It also drives less pleasantly, sitting so close to the steering wheel. That is why we were looking for a 3D rapid modeling specialist, who could scale down a steering wheel while retaining the design.
From scan to steering wheel
Online I came across SKM. I discussed my requirements with manager Dirk and sent a scan of one of our steering wheels. SKM then made a 3D print for me. This way I could see, at a low cost, whether the smaller steering wheel would really look as good as the original. For my business it is very important that the steering wheel looks correct. The enthusiast can immediately tell whether the steering wheel of a car is correct or not. After taking a close look at all the details, such as the ridges on the back and the holes in the spokes, SKM makes a mold to cast the handlebars. They also have everything in house to create a perfect finish.
Jaguar XK150, Chevrolet Corvette C1 and Volvo 123GT
Our collaboration started with 1 steering wheel, but today SKM has made 10 different models for us and produced hundreds of items. From a Jaguar XK150 steering wheel to the steering wheel of a Chevrolet Corvette C1. A popular steering wheel is that of a Volvo 123GT. Only 1500 of those cars were made, but there are Volvo enthusiasts who turn their car into a Volvo 123GT replica with our steering wheel! When I was looking for a 3D rapid modeling company 10 years ago, I didn't know if you could exactly scale down a classic original steering wheel, without compromising on the design. SKM proves that this is certainly possible. What I like about the collaboration are the short communication lines, flexibility and that I always contact Dirk. And if there is ever an emergency, I just drive to Helmond in my Pagoda."